22 September 2023
Writers Studio Wins Best Children's Writing Programme Award from The New Age Parents
We are thrilled to announce that Writers Studio School of English has won the Editor's Choice award for Best Children's Writing Programme in The New Age Parents Education Awards 2023! This prestigious award recognises our excellence in teaching English and creative writing to children of all ages and abilities. Read TNAP's article about Writers Studio School of English here.
The New Age Parents is a leading parenting magazine and resource directory in Singapore, with a mission to inspire and empower parents to raise happy and confident children. The New Age Parents Education Awards 2023 is an annual initiative that celebrates the best educational providers in various categories, such as preschools, enrichment centres, learning tools, and more. The winners are selected by a panel of editors and experts, based on criteria such as curriculum, pedagogy, facilities, feedback, and innovation.
Writers Studio School of English is honoured to receive this accolade, which reflects our commitment to nurturing young writers who can express themselves creatively and effectively. Our writing programme is designed to develop students' critical thinking, vocabulary, grammar, and composition skills, while also fostering their love for reading and writing. Our teachers are experienced and passionate educators who guide students through a variety of genres, themes, and formats, such as narratives, expositions, poetry, speeches, and more. Our classes are interactive and engaging, with activities that stimulate students' imagination and curiosity.
Writers Studio is more than just a tuition centre. We are a community of passionate educators who believe in nurturing every child's potential and empowering them to express themselves confidently and creatively. Our philosophy is to create a heart-based environment where students feel comfortable and connected with their teachers. This fosters self-directed learning and ensures success within and beyond the classroom.
We would like to thank The New Age Parents for this recognition, as well as our students, parents, teachers, and partners for their continuous support and trust. We are proud of our achievements and we look forward to creating more opportunities for our students to shine as writers. We will continue to strive for excellence and innovation in our teaching methods and programmes. We look forward to inspiring more children to discover the joy of learning English and creative writing with us.

Award Certificate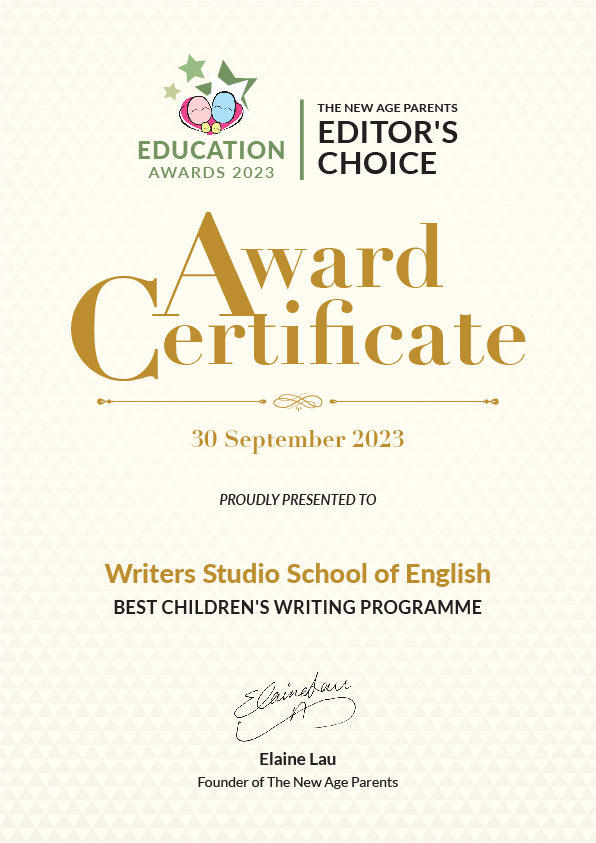 Spot & Win
Do you like puzzles and prizes? Join The New Age Parents' Spot & Win contest! Find hidden icons and win awesome rewards! Visit this page for more details, and this page to look for the hidden icon.